Overnight Bike Tours: Bangkok and Central Thailand
Take a bit more time to immerse yourself into the local culture with an overnight bike tour.. Escape Bangkok on a bike tour for two to four days and give yourself the opportunity to dig deeper into the local way of life and culture. After a day of fully supported cycling with our friendly guides, you can enjoy languid evenings, indulging in the excellent local food and a few drinks with your travel companions.
Below are details of our overnight bike tours around Bangkok and Central Thailand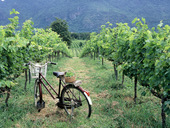 Good wine, good company and a nice ride through vineyards and Thai countryside. more
Guaranteed departures every Tuesday & Saturday with a minimum group of 2 adults. Private tours depart every day.
THB 9,950 (THB 10,990 after 30 Oct, 2015)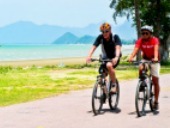 An adventurous tour of Thailand's floating market and serene coastal village of Hua Hin. more
Guaranteed departures every Wednesday. Private tours are available.
THB 15,950 (THB 16,950 after 30 Oct, 2015)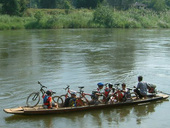 Kanchanaburi is the perfect playground for active families, offering a range of outdoor and historical attractions. more
Departs every Monday
THB 29,500 (THB 31,950 after 31 Oct, 2015)