Mountain Biking around Bangkok
For those who want to escape Bangkok and enjoy some mountain biking we have biking tours for you. While there may not be much mountain biking in Bangkok `itself, within a few hours of the city there are several great places for a day out. Most of these tours are on demand so contact us for more information.
Below are details of our Bangkok mountain biking tours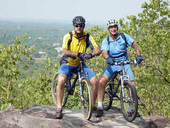 If you're a mountain biker but don't have time to go too far then these trails just outside the capital Bangkok are for you! Enjoy single track trails, some technical sections, stunning scenery and great food, all in one day! more
Departs daily with minimum of 2 adults.
THB 3,650 (THB 3,850 after Nov 1, 2014)